Sandy Kalik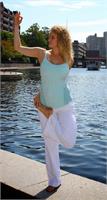 Sandy Kalik Bartone found yoga in a moment of transition. Grappling with the constant stream of information and expectations put on a young communications professional, yoga became her way to be physically present, to slow down, to feel.
At first, the flowing yoga sequences required so much of her presence and effort to do the poses correctly that there wasn't any space left for her mind to wander off the mat. While learning to be present in the physical body, Sandy also discovered that asana and meditation provided support for her body and mind in dealing with the day-to-day experience of rheumatoid arthritis.
Her personal practice grew from a craving for calm to a place of physical understanding and became a space of exploration and play. Sandy's classes are known for creative sequencing, making alignment accessible, and providing a safe space for play, silence, and exploration.
Sandy teaches vinyasa flow, restful yoga (blending Yin and restorative styles), and AcroYoga (a partner practice mixing acrobatics, asana, and Thai massage).
Sandy Kalik instructs the following:
Vinyasa Yoga is a vigorous yoga class that moves through poses with the pace of your breath. The class is designed for all levels with modifications offered to take the class at your own level and ability on any given day. The sequence of each class will build towards a challenging peak pose(s) to stimulate both the beginner and advanced practitioner as well as the kid at heart. This class will be sweaty and fun and will challenge students of all levels.




Led by Sandy Kalik and Emily Peterson

Enjoy the supportive and supported practice of rest while receiving universal life force energy. In this two-hour session, students will be guided through a practice that blends Yin, restorative, and gentle yoga, and concludes with a guided meditation. Hands-on healing will be offered throughout.

Sandy Kalik

Sandy loves to share the softer side of yoga asana, bringing balance and ease to body and mind. She has been teaching Restful Yoga since 2010.

Emily Peterson

Emily is a Usui Reiki Master with a profoundly healing touch. She is known for providing students and clients with calming, grounded, energetic support. * All workshop attendees can receive $15 off a Reiki session with Emily!

Testimonial:

"One evening I was attracted to a workshop titled "Restful & Reiki: An Evening of Restoration" which Emily was co-teaching. It was my first exposure to Reiki, and I followed up with scheduled Reiki sessions with Emily. I have struggled with depression all of my adult life, relying on therapy as well as medication. Emily's practice of Reiki has given me deep healing, and opens a window onto experiences of happiness and peace of mind that are altogether new to me. In that sense, it has saved a part of my life. Emily is a wonderful person and teacher, and has my deep gratitude." - L.G.

Cost: $40 for workshop / $35 through July 7th

(space is limited to 15 students)

All sales are final. Workshops are non-refundable.