Sandy Kalik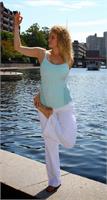 Sandy Kalik Bartone found yoga in a moment of transition. Grappling with the constant stream of information and expectations put on a young communications professional, yoga became her way to be physically present, to slow down, to feel.
At first, the flowing yoga sequences required so much of her presence and effort to do the poses correctly that there wasn't any space left for her mind to wander off the mat. While learning to be present in the physical body, Sandy also discovered that asana and meditation provided support for her body and mind in dealing with the day-to-day experience of rheumatoid arthritis.
Her personal practice grew from a craving for calm to a place of physical understanding and became a space of exploration and play. Sandy's classes are known for creative sequencing, making alignment accessible, and providing a safe space for play, silence, and exploration.
Sandy teaches vinyasa flow, restful yoga (blending Yin and restorative styles), and AcroYoga (a partner practice mixing acrobatics, asana, and Thai massage).
Sandy Kalik instructs the following:
Flow and Restore combines the best of Vinyasa and restorative yoga, resulting in a practice that will leave you simultaneously peaceful and renewed. This class begins with a grounding lunar flow to unwind the body and build heat in the muscles and ends with a restorative sequence with a deliciously long savasana, thus preparing the body and mind for a night of good sleep. Whether you are recharging for the week ahead or looking for a mid-week break, you do not want to miss this!




This class is designed to use a combination of breath, meditation, asana, and gentle movement to aid in healthy aging, to gently introduce yoga movement to the body post injury, and for anyone generally looking to introduce gentle yoga movement into their life. Gentle Flow will encourage students to direct their focus inward while practicing accessible standing, seated, and reclined postures that support a connection to the breath, healthy range of motion, balanced nervous system, and greater mind/body awareness. Students will experience less vigor in this class than in other flow classes, while being offered more movement than purely restorative and yin practices.

We hope that students will leave each class feeling grounded and renewed, with a deeper sense of connection to self. All levels and abilities are welcome.