Rachel Bairstow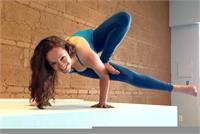 Rachel Bairstow began practicing yoga in 2003 as a way to relieve both stress and the boredom of her hackneyed gym routines. When the inner quiet and focus she found on the mat began to trickle into other corners of her life, Rachel knew she had found more than just a form of exercise; she had found a discipline for her spiritually inquisitive mind and a home inside a body which, until then, she had only minimally appreciated.
Rachel began teaching yoga in 2007 and discovered Forrest yoga shortly thereafter. When she trained with Ana Forrest in 2008, Rachel heard her speaking about yoga as a system of healing and living with honesty, strength, and a sense of personal wholeness. As she began to uncover more and more lost or silent parts of herself through Forrest, Rachel knew she wanted to give to others the gifts of this yoga that she herself had reaped.
Rachel believes in all forms of yoga as a powerful tool for connecting to the best parts of ourselves and allowing them to flourish. Students in Rachel's classes learn to use poses, breathing, and deep meditative focus to become students not only of yoga, but also students of themselves and their lives. Rachel welcomes all levels, all abilities, and all walks of life.
Rachel is delighted to join the astonishingly talented teaching staff at Coolidge Corner Yoga. She will also pop up behind the front desk as a manager, or in one of the bodywork rooms offering reiki or craniosacral therapy. Stop by and say hello!
Rachel Bairstow instructs the following:
New to yoga, or looking to get back to the basics? Yoga FUNdamentals provides both the beginning student and the seasoned practitioner a place to focus on common postures and transitions, that lay the foundation for Hatha yoga. Classes will focus on alignment and will include imaginative strength building exercises to prepare the muscles for the intensity of the major yoga asanas included in a vinyasa flow class. Expect clear instruction and individual assistance, as well as music to keep the environment light and playful. You don't need to be able to touch your toes in this class… all you need is an open mind & heart.




Forrest Yoga is a deep, inspiring practice that integrates different styles of yoga to build strength, gain flexibility, and awaken the core. Its intent is to create a sense of liberation in one's body, along with a powerful sense of self. Forrest Yoga emphasizes: activating the core to become strong and centered; intentional and focused breathing to oxygenate the body and engage the senses; and creative and intelligent asana sequencing to invigorate the body and nourish the spirit. All bodies and all levels are welcome. This class is heated to 80-85 degrees.




Foundations of Forrest both prepares new yoga practitioners for an all-levels Forrest yoga class and is ideal for the practitioner in need of a slower-paced class to aid in healing injuries and reducing chronic pain. Through careful, intelligent sequencing, this class offers tools for releasing tension in the neck and shoulders, building core strength to relieve back pain, and generating an overall sense of well-being and self-awareness. The attention paid to breath and sensation will leave you feeling energized, focused, calm, and renewed.




Core Flow will restore and strengthen all muscles in the core. The class is suitable for all levels and will consist of breath work to engage deep abdominal muscles, yoga poses linked to breath which activate and condition the core, as well as deep stretching and strengthening of the muscles that work closely together with the core to achieve maximal benefit.