Dan Steel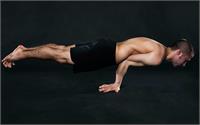 Dan Steel first discovered yoga when he walked into a free class on a whim while still in college. Having a background in martial arts and gymnastics, Dan was immediately drawn to the physically demanding aspects of the practice. Not long after establishing a regular asana practice he began to recognize its potential for healing and self-discovery. Dan believes that strength, flexibility, and balance cultivated in the body can be reflected in the mind.
Dan teaches with the philosophy that every time one steps onto the yoga mat, the opportunity exists for growth and greater understanding of the self, both physically and spiritually. The more we come to understand ourselves, the more we can act in accordance with our true nature, instead of living in repression and inauthenticity.
Dan has studied extensively with Ana Forrest, completing both the 200-hour Foundational and Advanced trainings, as well as a 200-hour vinyasa training through Back Bay Yoga in Boston. He has also studied Budokon yoga with Cameron Shayne and is working toward his certification in that style. In his classes Dan strives to offer a platform upon which students can explore and develop a heightened sense of body awareness.
Dan Steel instructs the following:
Vinyasa Yoga is a vigorous yoga class that moves through poses with the pace of your breath. The class is designed for all levels with modifications offered to take the class at your own level and ability on any given day. The sequence of each class will build towards a challenging peak pose(s) to stimulate both the beginner and advanced practitioner as well as the kid at heart. This class will be sweaty and fun and will challenge students of all levels.




Core Flow will restore and strengthen all muscles in the core. The class is suitable for all levels and will consist of breath work to engage deep abdominal muscles, yoga poses linked to breath which activate and condition the core, as well as deep stretching and strengthening of the muscles that work closely together with the core to achieve maximal benefit.




A vinyasa class drawing from the Forrest practice to heat up the core and bring alignment and awareness to your asana postures. Forrest yoga focuses on activating the core to become strong and centered; intentional and focused breathing to oxygenate the body and engage the senses; and creative and intelligent asana sequencing to invigorate the body and nourish the spirit. All bodies and all levels are welcome.




Cultivate and celebrate freedom through movement by coming to your mat in honor of the holiday. This mindfully-aligned class will be inspired by the sweetest parts of modern vinyasa, traditional hatha, and Forrest Yoga, promoting decompression, opening, strengthening, and lengthening, ultimately allowing us to live more freely in body, mind, and spirit.