Emily Peterson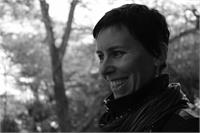 Formerly a competitive athlete, Emily Peterson began practicing yoga more than fifteen years ago in an attempt to manage chronic pain from injuries. While yoga was instrumental to her physical healing, Emily also discovered the power of yoga for practicing mindful acceptance. Emily's practice helped her learn to tolerate emotional discomfort and to stop struggling to change the present moment, thus opening up space for healing. For Emily, yoga offers an important meditative practice and the experience of a safe connection to her body, which were transformative and led to personal healing from an eating disorder, depression, and trauma.
Acting upon a deep desire to share with others, Emily began training with David Magone and obtained a 500-hour certification in PranaVayu Yoga. She additionally completed a Yin/Yang/Mindfulness intensive teacher training with Sarah Powers, as well as becoming a Usui Reiki Master, studying under the guidance of master teacher, Heather Smidt. She has also studied biomechanics and therapeutics extensively with Santosh Karmacharya. Emily discovered Suzanne Jones and yogaHope in the wake of the Boston Marathon bombing, and became a licensed facilitator for TIMBo (Trauma Informed Mind Body program). Emily holds a B.A. in applied psychology from University of Illinois-Chicago, where she began studying Buddhism and mindfulness, which are central to her life and to yoga. She has studied extensively with Lama Migmar Tseten, Buddhist Chaplain of Harvard University. One day soon she will write her thesis and earn a master's degree in government.
Influenced by a tradition of somatic-based work, Emily believes in the bi-directional relationship between psychology and physiology—the mind influences the body and the body influences the mind. In truth, there is no way to separate the two, and when we think of them as two different, distinct entities, we create disharmony. Health is achieved when there is harmony between and respect for both the body and the mind. Emily practices and facilitates yoga with the belief that true well-being and wellness begin with understanding how our bodies have adapted and developed in response to our surroundings and relationships. In short, listening to the body and discerning its wisdom is where healing and peace lie.
Emily Peterson instructs the following:
Yin Yoga is a quiet, meditative practice that uses long-held passive poses to enhance and renew the body's vital energy, prevent joint rigidity and immobility, and nourish the body at the cellular level. Yin aids with digestion, muscle repair, organ detoxification and emotional processing. The long held postures allow the connective tissue (ligaments, tendons, joints, and fascia) to strengthen, and with a consistent practice you will notice postural improvement, increased ease in movement and an overall balanced being. This is the perfect complimentary practice to any strength building or cardio exercise as well as an active Yang or vinyasa practice. It is also great for anyone recovering from injury or illness and pre or post -natal. Please note that this class is held at room temperature to increase the effectiveness of the practice - socks are welcome.