Laura Ahrens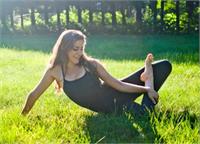 Laura Ahrens reluctantly tried yoga in 2009, and was surprised by her almost immediate dedication to the practice. She received a 200-hour certification in vinyasa in 2011. Shortly after, she was captivated by the deeply connected and core-centric practice of Forrest Yoga and went on to complete the Foundation and Advanced Teacher Trainings with creator Ana Forrest and year-long mentorship with Dr. Heidi Sormaz. She also holds a BFA from The University of the Arts.
Laura's current work is a melding together all of the different truths of moving and living through the yogic tradition that she has had the privilege of learning. Her teaching is more of an approach to practice than style-focused. Laura works with attention to an individual's physical and emotional starting points to empower ownership of one's practice.
Passionate about connection, her teaching is fueled by depth of breath, strong connection to core, precision of alignment, and commitment to the internal and somatic work necessary for personal evolution. Laura emphasizes quality of movement, and is adamant about process. She is inspired by intentional transitions and warrior-like, functional movement.
Laura is most interested in teaching others to be discerning practitioners who synthesize information through their own specific circumstances. In that spirit, she co-created The New School of Yogic Arts, a 200-hour yoga teacher training for those who want to teach the practice of yoga as a living system that breathes differently in each body.
Laura Ahrens instructs the following:
Vinyasa Yoga is a vigorous yoga class that moves through poses with the pace of your breath. The class is designed for all levels with modifications offered to take the class at your own level and ability on any given day. The sequence of each class will build towards a challenging peak pose(s) to stimulate both the beginner and advanced practitioner as well as the kid at heart. This class will be sweaty and fun and will challenge students of all levels.




Core Flow will restore and strengthen all muscles in the core. The class is suitable for all levels and will consist of breath work to engage deep abdominal muscles, yoga poses linked to breath which activate and condition the core, as well as deep stretching and strengthening of the muscles that work closely together with the core to achieve maximal benefit.




Kick 2018 off by generating the kind of energy you want in your life through your practice. In this all levels Vinyasa class, connect to your core, both physically and figuratively, to focus on what's most important as you flow into the new year. Clarity and presence come from being where your body is; discover this union on the mat and bring it with you into 2018 to both center and energize yourself for the year ahead. Regular class fees apply.