Joanne Lloyd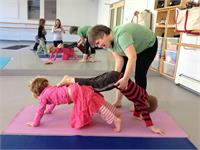 Joanne Lloyd is a yoga instructor specializing in teaching kids, as well as a social worker and psychotherapist in Brookline. She has taught yoga classes at Boston Children's Museum, Southern Jamaica Plain Health Center, Brookline Center, and in local family and corporate daycare centers in Boston and surrounding areas. Joanne's yoga training includes the Radiant Child Yoga Program with Shakta Kaur Khalsa, Circus Yoga with Erin Maile O'Keefe, Yogakids, and additioinal training through Karma Kids Yoga in NYC.
Her yoga classes incorporate music, storytelling, and partner poses to enhance your child's imagination while stretching their curious minds and bodies!
Joanne Lloyd instructs the following:
Toddlers are natural yoginis as they learn to crawl, walk and just physically move around in their environment. This adult/child class introduces yoga poses and a lot more while building their budding self-confidence and self-esteem. Through play, storytelling, partner poses and imagination, we learn how to hang like a bat and fly like a butterfly!

Spring 2018 Session: January 31 - May 30 (16 session)

Pricing: $240 for 16 sessions; rolling enrollment (with pro-rated price); $20 for one-time trial class




A class great for siblings! Using storytelling, music and yoga games we will build on our self esteem and confidence while practicing our own sundance and yoga poses. Join us while we strengthen and stretch our minds and bodies! For ages 5-12 yrs old, adult/child class.

Cost:

Family Yoga for 2 is $25 (includes 1 child and 1 adult)

Family Yoga for 3 is $35 (must include at least 1 child)

Family Yoga for 4 is $45 (must include at least 1 child)

Purchases are non-refundable.