Izzy Van Hall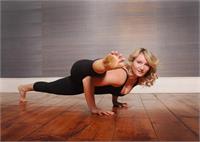 Every time Izzy steps on her mat it's an experiment, an opportunity to learn something, weather it be finding her edge, breaking through habitual thought patterns, finding a moment of stillness, an exhale perhaps a surrender and release.
Growing up Izzy was a relentless athlete, with years of National competition in Rowing, Track and Field, and Gymnastics. She pushed her body and mind to the limits. Gifted with a mother who knew she'd need a little extra TLC she attended her first Yoga class in 2004. In 2007 Izzy invested in her first Yoga teacher training with Gopi Kinnicutt. Since then she has studied with both International and Local teachers such as Shiva Rea, Dharma Mittra, Bonnie Argo, Jenny Sauer-Klein, Jason Nemer, Lynne Begier, Chanel Luck , Ana Forest, Jennifer Reis, and more.
Izzy's Classes are base on the premiss of loving the way your body moves. She strives to teach from a place of self empowerment from the ground up. She believes stability leads to the possibility of trying things you may never have thought possible. The poses will flow from one to the next inviting embodiment throughout the transitions.
In 2007 Izzy found a flyer for an AcroYoga workshop in NYC. It took her three hours to drive there and less then a minute to know the practice would be part rest of her life. She became a globe trotting student of these three practices, yoga, acrobatics, and the healing arts. Her local and international studies have taken Izzy across the United States, Europe, and all the way to Southeast of Asia. Devoting herself to the path of becoming a certified teacher, Izzy graduated Kripalu's 500hr Massage Program (Mass LMT), and the Thai Massage Circus Intensive. She finally became an AcroYoga Teacher in 2011.
Izzy Van Hall instructs the following:
Vinyasa Yoga is a vigorous yoga class that moves through poses with the pace of your breath. The class is designed for all levels with modifications offered to take the class at your own level and ability on any given day. The sequence of each class will build towards a challenging peak pose(s) to stimulate both the beginner and advanced practitioner as well as the kid at heart. This class will be sweaty and fun and will challenge students of all levels.