Kiara Segal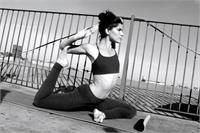 Kiara Segal was introduced to yoga when she was around nine years old, when her mother began to incorporate at least four sun salutations into the before bedtime ritual. Kiara was less than keen on the idea. Years later however, while attending Vassar College, she found herself slowly gravitating back towards the practice long left behind.
At a time when the biggest challenge seemed to be keeping pace with the fast rhythms of daily life, yoga offered an opportunity to slow down. It reminded her to be present, how to take in a moment for what it was, and how to not complicate that moment with what had been or what could be. This is what she hopes to share with her students: a sense of calm, joy, humility, and deep attentiveness as they move through, both on and off the mat.
Kiara received her 200-hour certification in vinyasa in 2014. She believes each of our bodies to be a celebration of life and strives to foster an atmosphere in class where sequencing can inspire joy and discovery for whomever may join.
She is very grateful for all of the love and support she has received in her life, as well as for the teachers that continue to cross her path everyday.
Kiara Segal instructs the following:
This class is designed to use a combination of breath, meditation, asana, and gentle movement to aid in healthy aging, to gently introduce yoga movement to the body post injury, and for anyone generally looking to introduce gentle yoga movement into their life. Gentle Flow will encourage students to direct their focus inward while practicing accessible standing, seated, and reclined postures that support a connection to the breath, healthy range of motion, balanced nervous system, and greater mind/body awareness. Students will experience less vigor in this class than in other flow classes, while being offered more movement than purely restorative and yin practices.

We hope that students will leave each class feeling grounded and renewed, with a deeper sense of connection to self. All levels and abilities are welcome.




Vinyasa Yoga is a vigorous yoga class that moves through poses with the pace of your breath. The class is designed for all levels with modifications offered to take the class at your own level and ability on any given day. The sequence of each class will build towards a challenging peak pose(s) to stimulate both the beginner and advanced practitioner as well as the kid at heart. This class will be sweaty and fun and will challenge students of all levels.