Taryn Marcorelle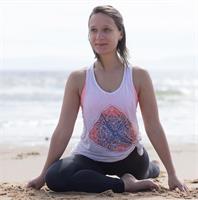 Taryn Marcorelle instructs the following:
This invigorating, all-levels Vinyasa flow is set to loud, upbeat music ranging from hip-hop to deep house. Held in a heated room, the sequences will work into deeper back bends, inversions, and arm balances. This moving and inspiring class will foster a fun and light-hearted atmosphere in which students can build strength and explore more advanced asana.

*Please note that some songs in this class may include profanity.




Vinyasa Yoga is a vigorous yoga class that moves through poses with the pace of your breath. The class is designed for all levels with modifications offered to take the class at your own level and ability on any given day. The sequence of each class will build towards a challenging peak pose(s) to stimulate both the beginner and advanced practitioner as well as the kid at heart. This class will be sweaty and fun and will challenge students of all levels.