Wilhelm Engelbrecht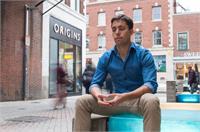 Wilhelm Engelbrecht is both a RYT 200 yoga instructor and meditation guide. Wilhelm found his way to a yoga class in 2008 due to an injured ankle caused by a poorly placed ditch in San Diego. It did not take long before he realized that this practice was to be his avenue for learning to move, think, and breath more fully in every aspect of his life. The progression from asana to pranayama and meditation came quickly and naturally, and it is now Wilhelm's sincere desire to bring the benefits of meditation to anyone willing to sit.
Wilhelm graduated from the inaugural class of the New School of Yogic Arts in 2016, completed meditation courses by Kelly Morrison and respected yogi Gary Kraftsow, and the Power of Awareness course with Tara Brach and Jack Kornfield. Wilhelm is ready to bring this wisdom and his own experience to the studios of Boston. Most importantly, while balancing his job as an event manager at Harvard Medical School, Wilhelm has been able to maintain a steady and ongoing daily meditation practice for the last five years. He is keenly interested in making the practice accessible for those who live in Boston by introducing small and simple techniques to help navigate the hectic city life.
Wilhelm Engelbrecht instructs the following:
Meditation with Wilhelm Engelbrecht

Wednesdays (7:30 - 8:00 a.m.)

$5 drop-in (meditation only) /

Free for members & those taking the previous 6:30 a.m. Vinyasa class

Start your day with meditation! Directly following the 6:30 Vinyasa class, this weekly meditation class is offered as a complement to asana practice or as a stand-alone mindfulness session. This meditation practice is appropriate for all levels of meditation and yoga practitioners, no previous experience required. These classes will focus on a variety of meditation techniques, each beginning with an introduction, followed by practice, and ending with a short Q&A.