Brigitte Arle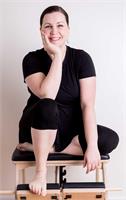 Brigitte started her professional career in dance in 1997 and has performed and toured with several companies in the US, Canada, and Europe. In 2003, she received her BFA in Dance from Alvin Ailey/ Fordham University. Her dedication to dance, anatomy, & movement led her to become a full time instructor. Brigitte began to train in Pilates in 1995, and has studied with first and second generation Pilates Elders. She was certified by the Kane School of Core Integration, Half Moon Pilates, and received her Pre/ Postnatal training at Erika Bloom Pilates Plus. Brigitte continues to be inspired by Pilates Elder Mary Bowen who is a great teacher/ mentor of both movement and the mind.
As young child, Brigitte found yoga and deepened her practice as a teen. She has since been certified in Integral Yoga Hatha, Integral Prenatal Yoga, Postnatal Yoga, and Yoga for Labor & Delivery. She received her Therapeutic Yoga certification with Cheri Clampett and Arturo Peal in 2010. In addition, she is certified in Thai Yoga Massage through the Lotus Palm School and studied Prenatal Thai Yoga Massage with Jyothi Watanabe. Brigitte studied Yin Yoga at Cyndi Lee's Om Yoga Center and received her Yin Yoga certification from Corina Benner in 2011.
In 2010, Brigitte embarked on her journey to become a doula and was subsequently certified by DONA International. She joined the NYC Doula Collective and sat on their board for two for the four years she worked as a doula with them. In 2012, she went to the Farm in Tennessee to study Midwifery with Ina May Gaskin. Brigitte has had the privilege to learn from Debra Pascali Bonaro (author of Orgasmic Birth), Isa Herrera PT (author of Ending Female Pain), Erik Franklin, Pamela Hunt CPM, Tom Meyers, holistic gynecologist Eden Fromberg DO, and Penny Simkin PT(author of The Birth Partner and many other books). Brigitte is a Certified Lactation Counselor, Infant Massage Instructor, and herbalist. Witnessing labor and birth over these years has greatly influenced her approach teaching yoga. When she is not teaching she is running after her fast little toddler on the beach.
Brigitte Arle is currently not instructing any classes.