Cameron Ciccone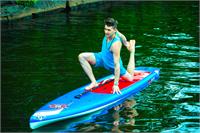 Growing up in Northern New Hampshire, the mountains were a playground for Cameron from a very young age. Naturally, outdoor adventure and athletics were a grounding presence. Years of competitive skiing and cycling left him frustrated with chronic pain. It was only after his sister's suggestion to join her for a yoga class that a life changing transformation began to take place.

Cameron's classes are fun and energetic with a strong belief in mindful movement and personal alignment. His sequencing helps to build strength and increase flexibility. Cameron believes in solid fundamentals and each class has a strong emphasis on basic alignment to develop muscle memory for new students. His main goal is to help inspire students to learn more about themselves on and off the mat.

"Finding yoga has changed my life in more ways than I could have imagined. Originally I was drawn to the practice because of my physical body and soon discovered I wasn't asking myself the right questions. I want my students to get excited for class but also show them that their ability to look within for answers is a lifelong tool. Yoga can be practiced in thousands of ways. I believe in a Yoga practice that works for an individual. We all come from different stock and have different lifestyles. The variables are endless. What do I need? What don't I need? I aspire to encourage people to develop a Yoga practice that works!" <style="text-align: justify;">"My philosophy is based on mindfulness. If we practice with our mind set on surroundings, feelings, movements, breath, and thoughts we begin to cultivate an awareness of our true needs. From this place life seems to align in a way we never thought possible. Sometimes all that is needed is mindful disconnect to reset and refresh. It doesn't have to be complicated! Let's enjoy the process through a creative Asana practice."
Cameron Ciccone instructs the following:
Core Flow will restore and strengthen all muscles in the core. The class is suitable for all levels and will consist of breath work to engage deep abdominal muscles, yoga poses linked to breath which activate and condition the core, as well as deep stretching and strengthening of the muscles that work closely together with the core to achieve maximal benefit.




Vinyasa Yoga is a vigorous yoga class that moves through poses with the pace of your breath. The class is designed for all levels with modifications offered to take the class at your own level and ability on any given day. The sequence of each class will build towards a challenging peak pose(s) to stimulate both the beginner and advanced practitioner as well as the kid at heart. This class will be sweaty and fun and will challenge students of all levels.