Erica Holt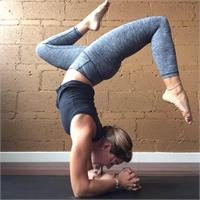 After having her second child and starting a Couch-to-5K program, Erica Holt quickly fell in love with everything about running. Although it began as a way to drop baby weight, Erica soon found that moving her body was just as exhilarating as it was rewarding. As the miles piled up, each greater distance brought on new challenges, aches, and stiffness. Nonetheless, pushing herself during every race was exciting and fulfilling.

Although Erica had only supplemented her training with the occasional vinyasa class over the years, it wasn't until she really committed to a consistent practice that she fully understood the benefits yoga brought to her life. The contrast of movement and stillness gave Erica the same thrill distance running had. Once yoga became a staple in her life, Erica found she was a stronger athlete overall, could start races in a more grounded mental state, and recover faster post-race.
Erica earned her RYT-200 from the New School of Yogic Arts at Coolidge Corner Yoga in the summer of 2016, where she studied under Tatyana Souza, Laura Ahrens, Goldie Graham, and Andrew Tanner.
Erica Holt instructs the following:
Looking to take your training to the next level? In this yoga class designed for athletes you will learn useful tools to further your training and compliment your existing athletic endeavors. We will use yoga to improve strength, flexibility, range of motion, mindfulness and determination, resulting in better performance in your sport pursuits, a cleared mind and an overall transformation in how you can use yoga as a tool to provide success everywhere else in your training, and in life.