Lena Rakijian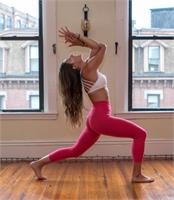 Lena Rakijian is a Registered Dietitian and fitness instructor based in Boston. She spent most of her life in southern California playing competitive sports and performing on stage in musical theatre, show choir, and contemporary acappella groups. Her passion for fitness and health brought her to New York City where she earned her M.S. in Nutrition & Public Health from Columbia University. In 2013 Lena moved to Boston to begin her career as a Registered Dietitian.
She immediately fell in love with the Boston fitness community and began teaching indoor cycling classes. With unique high energy and motivating classes, she quickly became one of Boston's most celebrated cycling instructors. Lena also started her own private practice to offer nutrition coaching for athletic performance, fitness, and optimal health. Her fast paced lifestyle and demanding schedule did not leave much room for slowing down and staying present in the moment. Yoga was the only time she had to connect with the self, deepen the breath, and gravitate towards the present. She decided to become a yoga teacher to share this gift with her students. Lena received her 200-hour certification in vinyasa through the New School of Yogic Arts led by Goldie Graham and Tatyana Souza.
In class, Lena wants you to feel alive in the present moment. She gives you the freedom to be exactly who you are without judgement and encourages you to embrace self love. Inspired by rhythm and empowered by breath, her physically challenging and thoughtfully sequenced yoga classes are crafted for all levels. Lena is so grateful for all the teachers who have inspired her on her journey and she is thrilled to pay it forward as a part of the Coolidge Corner Yoga family.
Lena Rakijian is currently not instructing any classes.