Alex Bauermeister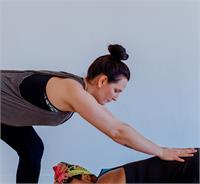 Alex Bauermeister is an ever-learning awareness junkie, who loves helping people find more authenticity, connection, courage, and meaning in their lives. With a focus on therapeutic and trauma-informed yoga, Alex helps clients find relief from tension, stress, anxiety, depression and post-traumatic stress symptoms to create their own healing and happiness.
Alex has accumulated over one thousand hours of training as a Phoenix Rising Yoga Therapist, Kripalu and Vinyasa yoga teacher, social change activist, and group facilitator. This is complemented by lifelong apprenticeships in body-based healing and psychology. Alex's background in social justice and anti-racism work bring an understanding of power and privilege to her teaching. She strives to hold a safe space for people from many diverse backgrounds and experiences, including those who don't necessarily have a positive association with yoga and/or therapy.
In addition to teaching public yoga classes, personal growth workshops, and Phoenix Rising Yoga Therapy training programs around New England, Alex also provides students with one-on-one yoga therapy. You can get in touch with Alex at alex@intrayogatherapy.com and www.intrayogatherapy.com.
Alex Bauermeister instructs the following:
This class is designed to use a combination of breath, meditation, asana, and gentle movement to aid in healthy aging, to gently introduce yoga movement to the body post injury, and for anyone generally looking to introduce gentle yoga movement into their life. Gentle Flow will encourage students to direct their focus inward while practicing accessible standing, seated, and reclined postures that support a connection to the breath, healthy range of motion, balanced nervous system, and greater mind/body awareness. Students will experience less vigor in this class than in other flow classes, while being offered more movement than purely restorative and yin practices.

We hope that students will leave each class feeling grounded and renewed, with a deeper sense of connection to self. All levels and abilities are welcome.




New Year's Awakening

with Alex Bauermeister

Alex Bauermeister's New Year's Awakening is part moving meditation, part inner empowerment workshop to help you thrive in 2018.

Rooted in her work as a yoga therapist, Alex will create alignment from the inside out by guiding you through all layers of yourself, including body, heart, and mind. The clarity forged through this practice will build up reserves of support to assist you throughout the new year. Think of it as dusting off your inner compass so that it can point you in the right direction for awesomely aligned choices in day-to-day life.

Bring a journal and an openness to connection, both with yourself and with one another. New Year's Awakening is an all levels workshop for everyone who shares an interest in yoga as a tool for navigating life, whether they are a novice or seasoned yogi.

When: Saturday, December 31 (1:00 – 3:00 p.m.)

Cost: $40 / $35 if pre-register by December 24

All sales are final. Workshops are non-refundable.