Kristen Sweeney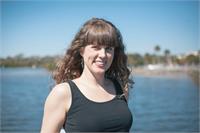 Kristen loves using yoga as a tool to help students achieve personal transformation. She received her 200-hour vinyasa and her hot yoga certifications from Yoga to the People in NYC, and trained in prenatal yoga with Juliana Mitchell of Living Now Yoga, also in New York. As a prenatal teacher, she is honored to share space with women on the incredible journey of creating and giving birth. Kristen's classes offer alignment-based, breath-focused instruction, incorporating the dualities of structure/freedom and comfort/challenge. She also loves helping students integrate the lessons and wisdom of the yoga practice on a broader scale into a personal "practice of living." Kristen is also a life coach, an actor, and a writer. www.edgeofthemat.com.
Kristen Sweeney instructs the following:
Vinyasa Yoga is a vigorous yoga class that moves through poses with the pace of your breath. The class is designed for all levels with modifications offered to take the class at your own level and ability on any given day. The sequence of each class will build towards a challenging peak pose(s) to stimulate both the beginner and advanced practitioner as well as the kid at heart. This class will be sweaty and fun and will challenge students of all levels.




New to yoga, or looking to get back to the basics? Yoga FUNdamentals provides both the beginning student and the seasoned practitioner a place to focus on common postures and transitions, that lay the foundation for Hatha yoga. Classes will focus on alignment and will include imaginative strength building exercises to prepare the muscles for the intensity of the major yoga asanas included in a vinyasa flow class. Expect clear instruction and individual assistance, as well as music to keep the environment light and playful. You don't need to be able to touch your toes in this class… all you need is an open mind & heart.




Prenatal Yoga is geared toward expecting moms and will offer a safe yoga class during this time of tremendous change in the body. This class will offer a workout, focus and connection on breath for relaxation, as well as support and community during this exciting time for expecting moms. Please - women only.