Kristen Sweeney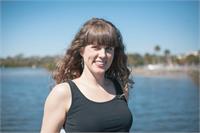 Kristen loves using yoga as a tool to help students achieve personal transformation. She received her 200-hour vinyasa and her hot yoga certifications from Yoga to the People in NYC, and trained in prenatal yoga with Juliana Mitchell of Living Now Yoga, also in New York. As a prenatal teacher, she is honored to share space with women on the incredible journey of creating and giving birth. Kristen's classes offer alignment-based, breath-focused instruction, incorporating the dualities of structure/freedom and comfort/challenge. She also loves helping students integrate the lessons and wisdom of the yoga practice on a broader scale into a personal "practice of living." Kristen is also a life coach, an actor, and a writer. www.edgeofthemat.com.
Kristen Sweeney instructs the following:
Core Flow will restore and strengthen all muscles in the core. The class is suitable for all levels and will consist of breath work to engage deep abdominal muscles, yoga poses linked to breath which activate and condition the core, as well as deep stretching and strengthening of the muscles that work closely together with the core to achieve maximal benefit.