Catie Macken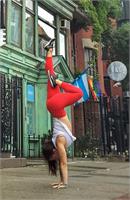 From a young age, Catie Macken has loved all forms of movement. She began dancing as a child, found running post-college, and completed her first marathon in 2012. To supplement training, Catie embarked upon indoor cycling in 2011 and began teaching it in 2013.
An injury brought Catie to yoga in 2010. Little did Catie know that just two years later, she would complete her yoga teacher training. Upon obtaining her certification, Catie started teaching in the Twin Cities area part-time. During the next year, her dharma began to unfold. In 2013, Catie moved to Boston to begin a full-time career in fitness. Over the next two years, she established herself as a well-known yoga and cycling instructor. Her teaching contains a calm intensity that inspires her students to tap into their inner strength and her classes are infused with playfulness, gratitude, devotion, and laughter. Her raw authenticity and vibrant personality instantly connect her with her students and peers.
A lover of learning, Catie is constantly seeking out new mentors and pulls inspiration for her teaching from her own personal practice as a student of yoga. Catie spent much of 2016 immersing herself in the AcroYoga community and all of the communication, trust, and physical and mental strength that come with it. She has studied with and under some of the best teachers in the Acro community, and completed her Acro teacher training in Germany in August 2016.
When not in the studio, Catie lives her most inspired life through constant travel, champagne, handstands, and her amazing tribe of friends and family. Follow along on her international adventures: @catiemacken and www.facebook.com/catie.macken.
Catie Macken instructs the following:
Vinyasa Yoga is a vigorous yoga class that moves through poses with the pace of your breath. The class is designed for all levels with modifications offered to take the class at your own level and ability on any given day. The sequence of each class will build towards a challenging peak pose(s) to stimulate both the beginner and advanced practitioner as well as the kid at heart. This class will be sweaty and fun and will challenge students of all levels.