Raquel Marra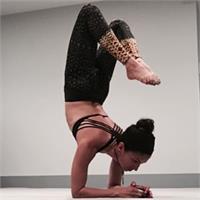 Raquel Marra My yoga practice is a constant search for the balance between movement and stillness, strength and flexibility, loudness and silence, inwardness and participation. All of which are juxtapositions that fuel my passion for yoga as a personal practice as well as my drive to teach what I discover. My classes are an endeavor to yoke the quiet beauty of a personal practice with the excitement of sharing the experience with a like-minded kula. My aim is to move through this life as I try to on my mat: with grace, fluidity and a strong sense of alignment. My yoga practice creates a profound sense of spaciousness in my inner landscape that I hope to convey to my students through creative flow and sweaty vinyasa.
200HR RYT, Saraswati's Yoga Joint/MB Yoga Advanced Mentoring Program with Donna Jackson, creator of SYJ Continued Advanced Studies with Schuyler Grant, Kula Yoga Project
Raquel Marra instructs the following:
Vinyasa Yoga is a vigorous yoga class that moves through poses with the pace of your breath. The class is designed for all levels with modifications offered to take the class at your own level and ability on any given day. The sequence of each class will build towards a challenging peak pose(s) to stimulate both the beginner and advanced practitioner as well as the kid at heart. This class will be sweaty and fun and will challenge students of all levels.