Daniel Krulewitch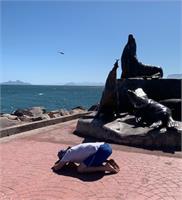 Daniel Krulewitch began to practice yoga the day before his forty-fifth birthday. He found that yoga offered a counterbalance to his life, which included working in high tech, raising a family, and dealing with the stresses of modern life. Yoga, Daniel realized, helped him feel everything, while the rest of his life seemed as though it required him to suppress his feelings.
Daniel's Vinyasa classes emphasize thoughtful exploration and de-emphasize the quest for perfection. He provides a safe, comfortable environment for all students, regardless of age, gender, size, or background. In his classes, Daniel guides yogis through the process of "unplugging" from the nonstop data-driven world, quieting the mind, moving and breathing in a healthful way, and maybe even sharing a laugh or two.
Daniel Krulewitch is currently not instructing any classes.