Amanda Nurse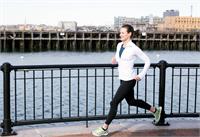 Amanda Nurse recently transitioned from social work to the yoga and fitness world. Amanda loved working with her patients because of her passion for empowering others, but she also wanted to have an impact on Boston's health and fitness community.
Yoga has always been an important part of Amanda's healthy lifestyle. She is an avid proponent of practicing yoga to enhance running performance through strength, stability, flexibility and, most-importantly, mindfulness and breathing. In 2016, Amanda completed the New School of Yogic Arts' 200-hour teacher training, studying under Tatyana Souza, Goldie Graham, Andrew Tanner, and Laura Ahrens. Amanda teaches yoga to the men's and women's water polo teams at Harvard University, and recently taught Yoga for Runners classes at the Runner's World Pop-Up Store during Boston Marathon weekend. Her teaching style is informed by her knowledge of the body and how it needs to be optimized to perform at its top level in a sport. Her thoughtful sequencing includes a mix of vinyasa and restorative yoga, with a strong emphasis on stretching and finding breath through movement.
Amanda Nurse instructs the following:
Looking to take your training to the next level? In this yoga class designed for athletes you will learn useful tools to further your training and compliment your existing athletic endeavors. We will use yoga to improve strength, flexibility, range of motion, mindfulness and determination, resulting in better performance in your sport pursuits, a cleared mind and an overall transformation in how you can use yoga as a tool to provide success everywhere else in your training, and in life.