Jenn Sullivan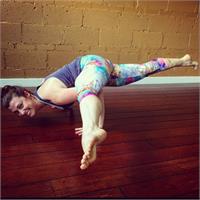 After working for several years as a restaurant manager, Jenn Sullivan noticed the toll her job was taking on her, both physically and mentally. She never loved going to the gym and struggled to find a consistent workout routine that felt good to her body. Years before, she had tried yoga at a local gym, but didn't like the classes. But when CCY opened up in Jenn's neighborhood in 2013, she decided to give yoga another try. From her first studio yoga class, she found the balance that her life had been missing. She began to appreciate the connection between the mind and body that the physical practice brings, while creating an outlet to relieve stress and anxiety. Jenn has been a devoted practitioner ever since and has enjoyed seeing the strength the practice has given her, both physically and mentally.
With a BA in psychology from Boston College, Jenn has always been intrigued by the way the mind works. Because she wanted to delve further into her practice and herself, she completed her 200-hour yoga teacher training with the New School of Yogic Arts in January 2017, and became a registered Yoga Alliance Teacher. She also completed a children's yoga teacher training through the Kidsana Kids Yoga Teacher Training under Dawn Keighley. In her classes for both adults and children, Jenn strives to create a safe space to inspire students to use asana as a way to foster a deeper connection to their minds and bodies, both on and off the mat.
Jenn Sullivan is currently not instructing any classes.