Tim Kelleher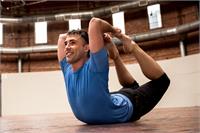 Tim loves yoga and thinks you will too.
A steady practice helped Tim heal from years of physical and emotional trauma, reconnect with his body, focus his mind and bring a sense of joy and clarity into his daily life.
He stumbled upon a primary series at a gym in 2003 and has been on a mat ever since.
Tim instruction draws on a wide range of styles and movement modalities to create joyful, powerful flows. He believes a healthy body leads to a deeper breathe; deeper breathe leads to a quiet mind, and a quiet mind opens up a happy heart.
Tim is a EYT - 500 and has studied with Kate Greer and Nicole Clark and Schuyler Grant. He recently completed an advanced certification with Sondra Loring. Tim teaches advanced studies, teacher trainings, workshops and retreats in Boston and beyond. He is passionate about his work with the recovery community in Boston, where he leads classes and spearheads programs in residential inpatient facilities.
It is his honor to be able to share his practice with his students - to sweat and play and fly and maybe share a little peace.
Tim Kelleher instructs the following:
Vinyasa Yoga is a vigorous yoga class that moves through poses with the pace of your breath. The class is designed for all levels with modifications offered to take the class at your own level and ability on any given day. The sequence of each class will build towards a challenging peak pose(s) to stimulate both the beginner and advanced practitioner as well as the kid at heart. This class will be sweaty and fun and will challenge students of all levels.