Meghan Ryan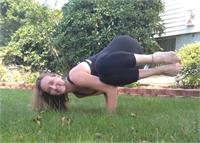 Meghan Ryan instructs the following:
New to yoga, or looking to get back to the basics? Yoga FUNdamentals provides both the beginning student and the seasoned practitioner a place to focus on common postures and transitions, that lay the foundation for Hatha yoga. Classes will focus on alignment and will include imaginative strength building exercises to prepare the muscles for the intensity of the major yoga asanas included in a vinyasa flow class. Expect clear instruction and individual assistance, as well as music to keep the environment light and playful. You don't need to be able to touch your toes in this class… all you need is an open mind & heart.




This class is designed to use a combination of breath, meditation, asana, and gentle movement to aid in healthy aging, to gently introduce yoga movement to the body post injury, and for anyone generally looking to introduce gentle yoga movement into their life. Gentle Flow will encourage students to direct their focus inward while practicing accessible standing, seated, and reclined postures that support a connection to the breath, healthy range of motion, balanced nervous system, and greater mind/body awareness. Students will experience less vigor in this class than in other flow classes, while being offered more movement than purely restorative and yin practices.

We hope that students will leave each class feeling grounded and renewed, with a deeper sense of connection to self. All levels and abilities are welcome.