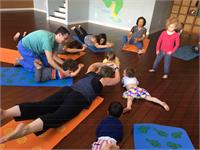 Toddler Yoga (ages walkers - 3.5): Get your little one off on the right yoga-foot with this fun and educational yoga class for walkers to 3 year-olds. Our littlest yogis will learn and grow through simple, animated yoga poses, music, breath work, and balancing games that build strength, coordination, and body awareness. While the class flows between bonding exercises with caregivers and opportunities for little ones to venture out on their own, caregivers are asked to stay on their mat. In this safe, holding, and creative environment, everyone can experience the joy and fun of yoga!
(No classes during Boston public school holidays).
Fall 2018 session: September 18 - January 22
Pricing: $240 for 16 sessions; rolling enrollment (with pro-rated price); $20 for one-time trial class
Drop-in: $20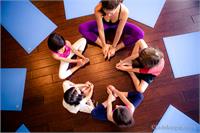 Yogi Beans (3.5 - 7): This non-traditional yoga class will take your little one on invigorating, imaginative adventures to places like the African savannas, Arabian deserts, and the deep blue sea. Classes begin with breathing exercises to relax and focus attention inward. Incorporating asana (yoga poses) and pranayama (breath work) into highly imaginative play allows kids to build strength, increase flexibility, and improve concentration...all while having fun! Class ends with restorative poses and breathing exercises, leaving your little one happy, inspired, and relaxed. Older siblings welcome! (No classes during Boston public school holidays).
Fall 2018 session: September 20 - January 24
Pricing: $240 for 16 sessions; rolling enrollment (with pro-rated price); $20 for one-time trial class