Elyssa Schneider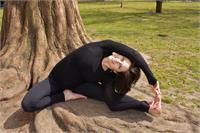 As a middle and high school teacher for nearly a decade, the call to teach and share her passions with others comes naturally to Elyssa Schneider. She caters her classes to the specific students in front of her, acknowledging that our bodies do not fit into a one-size-(practice)-fits-all mold. She brings her utmost passion, deep wealth of experience and learning, and love for connection with others to every class that she teaches: prenatal, Mommy and Baby, kids and teen, and adult vinyasa. Elyssa's classes are playful and challenging, and through the seemingly simple act of breathing with awareness, she aims to allow the space for her students to be as they are, and to come away with a sense of personal connection and aliveness.
Elyssa's relationship with yoga spans more than a decade, and it is constantly changing to be what she needs it to be in each moment and stage of life. Continuing to show up on her mat each day during her pregnancy, Elyssa has experienced firsthand the immense benefits of a prenatal yoga practice, both physically and emotionally, and is so excited to share this practice with other women. She fully credits her prenatal yoga practice with helping her to have the birth experience that was perfect for her, and, even more, for helping her ride out the constant uncertainties of pregnancy and new motherhood. Through her prenatal yoga practice, Elyssa learned to cultivate strength, to shower herself with self-compassion, and to truly listen to her body: to rest when she needed to rest and to push her edge when she needed to push. For the first time in her life, Elyssa learned to let go of control and be okay with not knowing what would be, lessons that have carried over into motherhood, and simply into life itself.
Elyssa completed her 200-hour training at Back Bay Yoga with Lynne Begier and Ame Wren, as well as additional studies with Nicole Clark and prenatal training with Bec Conant of OmBirths. She continues to look up to and learn from all of her teachers and students (both in the studio and in the classroom) daily, and especially her son Jayden, her most natural yoga teacher of all.
Elyssa Schneider instructs the following:
Prenatal Yoga is geared toward expecting moms and will offer a safe yoga class during this time of tremendous change in the body. This class will offer a workout, focus and connection on breath for relaxation, as well as support and community during this exciting time for expecting moms. Please - women only.