Nadine Channaoui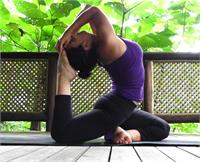 Nadine Channaoui's yoga practice began in Buenos Aires, Argentina during a Fulbright grant term. Gymnastics had been a large part of her life growing up, and she was initially interested in yoga as a translation of her passion for gymnastics into a form of movement that was more physically sustainable. Like many practitioners, her initial appreciation for the physicality of yoga was soon complemented by an intrigue for its emotional and spiritual layers.
As a passionate traveler, over the years Nadine has set up home in Bolivia, Argentina, Spain, and Costa Rica. Through yoga, she has found that her sturdiest and most sincere home is that which is held within her own body. It is this ever-present place of peace and equanimity that motivates her yogic journey. While the yoga practice and life in general fluctuate in their reflections of ease and comfort, the intimate self-reflection embedded in the practice continually captivates her. Nadine believes that compassionate observation of our unique experiences in different postures, terrains, and events provides us with the opportunity to locate our truest selves and to eventually inhabit that space more fully. In turn, we are better able to act with increased clarity, honesty, compassion, and authenticity.
Nadine is incredibly grateful to have learned from inspiring teachers across the globe, most notably from Ame Wren, with whom she has completed her 200- and 500-hour teacher trainings. Nadine's yoga practice and approach to teaching are also inspired by Brenna Matthews, Nicole Clark, and Kevin Courtney. In the classes she offers, you can expect to be guided with intelligent flow, attention to alignment, and the invitation to explore your experiences with curiosity and compassion.
Nadine Channaoui instructs the following:
New to yoga, or looking to get back to the basics? Yoga FUNdamentals provides both the beginning student and the seasoned practitioner a place to focus on common postures and transitions, that lay the foundation for Hatha yoga. Classes will focus on alignment and will include imaginative strength building exercises to prepare the muscles for the intensity of the major yoga asanas included in a vinyasa flow class. Expect clear instruction and individual assistance, as well as music to keep the environment light and playful. You don't need to be able to touch your toes in this class… all you need is an open mind & heart.