Shilpa Reddy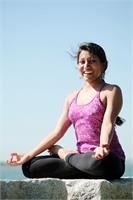 Growing up in South Africa, yoga was the first form of exercise Shilpa Reddy encountered growing up. As a young girl, she was fascinated by her father's routine of waking at dawn, going for a run, and segueing into his day with a headstand. From her early training in the asanas, pranayama, and meditation, Shilpa was instilled with respect for safe and steady progression, as well as lifelong gratitude for the benefits of yoga to mind, body, and soul.
Shilpa's teaching integrates the precision ingrained in her by teachers in India with the playful, sporty, approach of her recent years of practice in America. In her classes, expect a fun vinyasa flow complemented by conscious breathwork and a finale of deep rest.
Shilpa teaches with gratitude to her family for making yoga second nature, to Dr. Kabir for guiding her into the living philosophy of ancient India, and to Ame Wren and David Vendetti for showing her how to dance and play in all life's asanas.
Shilpa Reddy instructs the following:
New to yoga, or looking to get back to the basics? Yoga FUNdamentals provides both the beginning student and the seasoned practitioner a place to focus on common postures and transitions, that lay the foundation for Hatha yoga. Classes will focus on alignment and will include imaginative strength building exercises to prepare the muscles for the intensity of the major yoga asanas included in a vinyasa flow class. Expect clear instruction and individual assistance, as well as music to keep the environment light and playful. You don't need to be able to touch your toes in this class… all you need is an open mind & heart.




Vinyasa Yoga is a vigorous yoga class that moves through poses with the pace of your breath. The class is designed for all levels with modifications offered to take the class at your own level and ability on any given day. The sequence of each class will build towards a challenging peak pose(s) to stimulate both the beginner and advanced practitioner as well as the kid at heart. This class will be sweaty and fun and will challenge students of all levels.