Maybelle Rowntree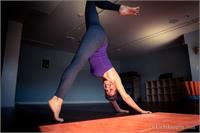 Maybelle has been dancing since she was three. She became seriously involved with dance, specifically classical ballet, in 1967 at the Boston Conservatory of Music. Between 1970 and 1984 Maybelle apprenticed with New England Dance Theater, was a demi-soloist with Boston Repertory Ballet and Bay State Ballet, and made guest appearances with New England Dinosaur and Concert Dance Company. She spent a summer with the Boston Ballet, which was quite thrilling even back then! Additionally, Maybelle also taught beginner, elementary, and intermediate ballet classes. Teaching is where Maybelle's heart is. It was the movement, not the performing, that captured her even back then.
With the birth of Maybelle's daughter in 1984, she morphed into fitness. Aerobic dance and weight training became her passion. She ended up teaching at the Squash Club (now Boston Sports Club) in Allston. There she developed a class called Ballet for Athletes, as well as teaching group aerobic classes and personal training.
Maybelle continued in fitness until 2000, when she became interested in Pilates, which she studied Pilates until 2003 and incorporated into her teaching style. She opened her own personal training studio that same year and still spends the majority of her teaching time there.
Not long after discovering Pilates, yoga flowed into Maybelle's life and finally formed the style she teaches today. Maybelle blends into asana ballet's unified flowing dance movements and attention to detail and alignment with the athleticism of fitness and with Pilates' emphasis on the core. I call the synergy of all of these elements Triune: the unity of spirit, soul, and body. This is not just what Maybelle does, it's who she is.
Maybelle Rowntree instructs the following:
TriUne Yoga is the unification of ballet, pilates and yoga asana, all in one. It integrates the flowing transitional movements and attention to detail and alignment found in ballet with the athleticism of fitness and the core focus found in Pilates, all captured within the framework of yoga asana and breath. It is the unique union of the underlying Truth found in all classical physical disciplines. Just as we are three part beings, Spirit, Soul and Body, so does TriUne mirror that three part reality. As it is in the natural so it is in the spiritual.