Elizabeth Heller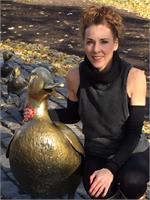 Elizabeth Heller was regularly practicing Tae Kwo Do alongside her five-year-old son when she took her first yoga class as a favor to another mom. Hooked, she continued to practice yoga at home as a form of centering, which transformed her martial arts practice. After an ACL tear, yoga became a source of both physical and emotional healing for Elizabeth. It was then that she fell in love with its transformative power: her life, spirit, and body had never felt more peaceful, vibrant, and energized. Elizabeth a member of the Coolidge Corner Yoga Kids staff. She has completed a 200-hour teacher training with the New School of Yogic Arts and profound teachers Laura Ahrens and Andrew Tanner. She has also completed a children's yoga teacher training with her generous, inspiring teacher, Dawn Keighley, through Kidasana Kids Yoga Teacher Training, and is a certified prenatal yoga teacher through Om Births with Bec Conant. Additionally, Elizabeth is the author/co-author of eight books for and about children, and a contributing author of two parenting books. She has a BA in English and an MS in Broadcast Journalism, created a children's sports and news program, and was a money reporter for a Boston children's radio program. She completed eight years of Tae Kwon Do training and earned her second-degree black belt.
Elizabeth Heller instructs the following:
Yogi Sprouts (ages 4 - 7): This non-traditional yoga class will take your little one on invigorating, imaginative adventures to places such as African savannas, Arabian desserts, and swimming in the deep blue sea. Classes begin with breathing exercises to relax and focus attention inwards. Incorporating asana (yoga poses) and pranayama (breath work) into highly imaginative play ensures that kids will build strength, increase flexibility, and improve concentration all while having fun! Class ends with restorative poses and breathing exercises, ensuring your little one will leave feeling happy, inspired and relaxed. Siblings welcome!

Fall 2018: September 18 - January 29 (16 sessions)

Spring 2019: February 12 - June 11 (16 sessions)

Pricing: $240 for 16 sessions

(rolling enrollment allowed)

$20 for one trial drop-in.




Yogi Blossoms (ages 8-12): This tween program will promote inner and outer strength, through a mixture of games, yoga sequences, partner poses, restorative yoga postures and deep relaxation, in a safe, be yourself, no judgment environment. Yoga can help tweens find balance in their busy schedules as well as help complement the children's other athletic activities.

Fall 2018: September 17 - February 4 (16 sessions)

Spring 2019: February 11 - June 17 (16 sessions)

Pricing: $240 for 16 sessions

(rolling enrollment allowed)

$20 for one trial drop-in.