Mary Pat Reed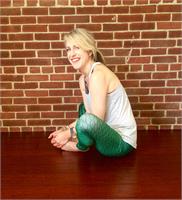 Mary Pat has dedicated the past twenty years of her life to working with children in a variety of settings. With a Masters degree in Early Education, Mary Pat has an exceptional understanding of childhood development. While teaching in a 2-3yr old classroom, Mary Pat completed her children's yoga teacher training. Soon after, she implemented an all ages kids yoga program at the Oxford Street Daycare Coop where she has been teaching for four years. She currently is the director of a preschool. Mary Pat hopes to foster growth and exploration by leading fun and interactive yoga classes to kids of all ages!
Mary Pat Reed instructs the following:
Yogi Beans (3 - 6): This non-traditional yoga class will take your little one on invigorating, imaginative adventures to places like the African savannas, Arabian desserts, and the deep blue sea. Classes begin with breathing exercises to relax and focus attention inward. Incorporating asana (yoga poses) and pranayama (breath work) into highly imaginative play allows kids to build strength, increase flexibility, and improve concentration . . . all while having fun! Class ends with restorative poses and breathing exercises, leaving your little one happy, inspired, and relaxed. Older siblings welcome!

Fall 2018: September 26 - February 6 (16 sessions)

Spring 2019: February 13 - June 12 (16 sessions)

Pricing: $240 for 16 sessions

(rolling enrollment allowed)

$20 for one trial drop-in.




Yoga Lab (ages 4-10) is space where children can investigate and explore yoga, breath and movement. Every class will include flowing sequences, breathing exercises, relaxation techniques and a closing circle. The addition of music, storytelling, art, and group games will be sure to capture and hold kids attention. Age and intensity level variations will be suggested throughout the class to accommodate all of the students.