Brigitte Arle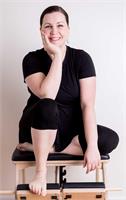 Brigitte Arlé, RPYT, CLC, CEIM, has a background in dance and received her BFA from Alvin Ailey/ Fordham University. Her dedication to dance, anatomy, and the study of movement led her to become a full-time instructor. Brigitte is certified in therapeutic yoga, Thai yoga massage and prenatal TYM, integral yoga hatha, yin yoga, integral prenatal yoga, postnatal yoga, and yoga for labor and delivery. She is also certified in Pilates mat, apparatus, and prenatal and postnatal Pilates. Brigitte teaches private Pilates at her studio, Rooted Boston.
Because of her love of working with expectant and new mothers, Brigitte became a doula in 2010 and was certified by DONA International. She studied midwifery with Ina May Gaskin at the Farm in Tennessee. Brigitte is also a Certified Lactation Counselor, Certified Educator of Infant Massage, and has received several certificates for specialties in pelvic floor rehab. Witnessing women in labor, birth, and parenting her own two girls, has greatly influenced Brigitte's approach to teaching.
Brigitte Arle instructs the following:
Prenatal Yoga is geared toward expecting moms and will offer a safe yoga class during this time of tremendous change in the body. This class will offer a workout, focus and connection on breath for relaxation, as well as support and community during this exciting time for expecting moms. Please - women only.




Join trainer Brigitte Arle for an interactive info session about Rooted Prenatal Yoga Teacher Training. We'll give you the low down and answer any questions you may have. Embarking on this journey can feel like a huge next step in your practice, so we'll be here to give you all the details about what the average day is like, what material will be covered, and what to expect. The biggest question we get is "Am I ready?" You can bring that question, too. We can't wait to see you there!