Daniel Krulewitch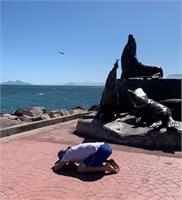 Daniel Krulewitch began to practice yoga the day before his forty-fifth birthday. He found that yoga offered a counterbalance to his life, which included working in high tech, raising a family, and dealing with the stresses of modern life. Yoga, Daniel realized, helped him feel everything, while the rest of his life seemed as though it required him to suppress his feelings.
Daniel's Vinyasa classes emphasize thoughtful exploration and de-emphasize the quest for perfection. He provides a safe, comfortable environment for all students, regardless of age, gender, size, or background. In his classes, Daniel guides yogis through the process of "unplugging" from the nonstop data-driven world, quieting the mind, moving and breathing in a healthful way, and maybe even sharing a laugh or two.
Daniel Krulewitch instructs the following:
Vinyasa Yoga is a vigorous yoga class that moves through poses with the pace of your breath. The class is designed for all levels with modifications offered to take the class at your own level and ability on any given day. The sequence of each class will build towards a challenging peak pose(s) to stimulate both the beginner and advanced practitioner as well as the kid at heart. This class will be sweaty and fun and will challenge students of all levels.