Lauren Massalas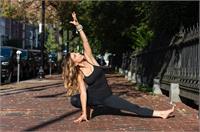 Back in 2008 in the trenches of nursing school while leading a FOMO party life, Lauren needed a healthier alternative. She started practicing warm vinyasa yoga in New Haven to offset the stress of her new career in ICU nursing. YES!
When she moved to Encinitas, CA, in 2011, she continued to flow like the surfers and completed teacher training at her local studio, Corepower Yoga. California, bursting with the best avocados and fruit she had ever tasted, is also where she started to experiment with vegetarian and vegan cooking.

When Lauren returned to Boston she felt reverse culture shock, on the streets and in the yoga studio. She also realized she wanted to teach a class unique to her, not a skeleton developed by a yoga chain. Compelled to dive deeper, she completed her second 200-hour training at Coolidge Corner Yoga in 2016 under Goldie Graham, Tatyana Souza, Laura Ahrens and Andrew Tanner. These four unique souls were the best example of how to share from an open heart. She left the training stronger, not only as a teacher, but a better communicator.

This training also introduced her to Ayurveda, the oldest still practiced healthcare system in the world. As a critical care nurse focused on saving lives, Lauren appreciated the expansive big picture view of health that goes beyond disease free by learning how to thrive. Feeling invigorated physically, mentally and spiritually, she had to know more about Ayurveda and went on to complete a 650-hour certification as an Ayurvedic Health Counselor from Kripalu Center in the Berkshires.

Lauren continues to work part time in the cardiac ICU at Mass General. Her teaching reflects her holistic path and is influenced by western anatomy and physiology, yogic philosophy, and Ayurvedic wisdom. Her yoga class is meant to adapt to the season, time of day, and honor your individual constitution.
Lauren Massalas instructs the following:
For those who are short on time but not on intention, this class is for you! Expresso Flow covers all the basics, but doesn't miss a beat. This class is all-levels, but some yoga experience is highly recommended, especially familiarity with sun salutations. We will move at an upbeat breath pace, so come prepared to move, build up heat, and feel complete in this express flow.




Vinyasa Yoga is a vigorous yoga class that moves through poses with the pace of your breath. The class is designed for all levels with modifications offered to take the class at your own level and ability on any given day. The sequence of each class will build towards a challenging peak pose(s) to stimulate both the beginner and advanced practitioner as well as the kid at heart. This class will be sweaty and fun and will challenge students of all levels.




Core Flow will restore and strengthen all muscles in the core. The class is suitable for all levels and will consist of breath work to engage deep abdominal muscles, yoga poses linked to breath which activate and condition the core, as well as deep stretching and strengthening of the muscles that work closely together with the core to achieve maximal benefit.