Jessica Della Calce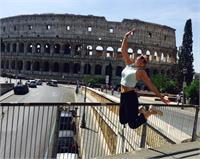 Jessica Della Calce BA, M.Ed., has been working in education for over 13 years and has studied early childhood and reading and literacy education. She began practicing yoga 5 yearsago and as she flowed to the music on her mat she felt empowered, energized, and peaceful. Jessica recognized the connection between her yoga practice and the growth mindset she was fostering in her kindergarteners. She started incorporating yoga and mindfulness into her teaching and noticed an increase in students ability to be present, their willingness to take risks, their kindness towards each other, and the strength and flexibility of their minds and bodies.
Jessica is passionate about building students agency, helping them to recognize their power and persevere when encountering challenges on or off the mat. She wants her students to learn through practice that mistakes are opportunities for growth, and that there is always more than one way to reach your goals. In 2016, studying under the direction of Caitlyn Graham Visconte and Renee LeBlanc, Jessica completed Back Bay YogaWorks 200-hour teacher training. Jessica has also studied kid's yoga with Lisa Flynn, of Childlight Yoga, Dawn Keighley, and Lara Hocheiser. She is grateful to all of her teachers for their guidance and inspiration and is excited to continue learning and growing on her journey as a yogi.
Jessica Della Calce instructs the following:
Yogi Beans (3.5 - 7): This non-traditional yoga class will take your little one on invigorating, imaginative adventures to places like the African savannas, Arabian deserts, and the deep blue sea. Classes begin with breathing exercises to relax and focus attention inward. Incorporating asana (yoga poses) and pranayama (breath work) into highly imaginative play allows kids to build strength, increase flexibility, and improve concentration...all while having fun! Class ends with restorative poses and breathing exercises, leaving your little one happy, inspired, and relaxed. Older siblings welcome! (No classes during Boston public school holidays).

Fall 2018: September 20 - January 24 (16 classes)

Spring 2019: February 14 - June 13 (16 classes)

Pricing: $240 for 16 sessions

(rolling enrollment allowed)

$20 for one trial drop-in.