Scott Troppy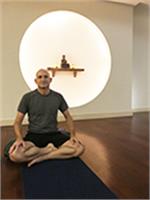 Scott Troppy began practicing yoga in 1996 as a way to deal with stress and boredom of the gym. Scott received his 200-hour certification in the PranaVayu style in 2010 with David Magone. He started taking Yin yoga with Josh Summers and decided to train in that style in 2012 and later returned for YinII Training in 2015. Scott teaches an all levels Yin class for connective tissue health (ligaments, tendons, and joints) using long held poses in a mindful environment using meditation and breath.
In addition, Scott has studied with Lama Migmar Tseten, Buddhist Chaplain of Harvard University focusing on meditation. In his full time job as an infectious disease Epidemiologist for the MA Department of Public Health he enjoys a little reading and knitting socks. All levels are welcome to his class.
Scott Troppy is currently not instructing any classes.