Dana Einhorn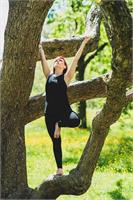 Dana started practicing yoga in 2007 at what is now Coolidge Yoga, South End. At first, she looked at yoga as another workout class but as her physical asana practice grew deeper she began to realize how much more yoga had to offer and how it balanced other aspects of her life including a fast paced career in finance and a love of long distance running.
After moving abroad in 2008 she realized that yoga provided a home away not only as a grounding practice but also as a way to join a community and her practice deepened further. In May of 2017, after a decade in finance, Dana left the industry to complete her Associates Degree in Culinary Arts and upon her return completed her 200-Hour Yoga Teacher Certification with The New School of Yogic Arts.
Dana has completed 3 marathons; Boston, London and New York, and countless other long distance road races. She continues to find new, innovative ways to combine and compliment her love of running and weightlifting with her practice of yoga asana, breathing and meditation.
Dana Einhorn instructs the following:
Teen Yoga for Girls (ages 11-16) This tween/teen program for girls will promote inner and outer strength, through flowing sequences, restorative yoga postures and deep relaxation, in a safe, be yourself, no judgment environment. This is the population that needs yoga the most, as entering the teen years brings many transitions (some tumultuous!), both physically and emotionally. Yoga can help teens find the necessary tools to deal with their emotions, stress, body image and peer pressure, setting them up for success in all aspects of their lives.

Fall 2018: September 21 - February 1 (16 sessions)

Spring 2019: February 15 - June 14 (16 sessions)

Pricing: $240 for 16 sessions

(rolling enrollment allowed)

$20 for one trial drop-in.




$6 CASH ONLY Vinyasa - Community Class. This is a vigorous yoga class that moves through poses with the pace of your breath. The class is designed for all levels with modifications offered to take the class at your own level and ability on any given day. The sequence of each class will build towards a challenging a peak pose(s) to stimulate both the beginner and advanced practitioner as well as the kid at heart. This class will be sweaty and fun and will challenge students of all levels. Please note, pre-registration is not available for this class; first come, first served! (Class cards and credit cards not valid)




Looking to take your training to the next level? In this yoga class designed for athletes you will learn useful tools to further your training and compliment your existing athletic endeavors. We will use yoga to improve strength, flexibility, range of motion, mindfulness and determination, resulting in better performance in your sport pursuits, a cleared mind and an overall transformation in how you can use yoga as a tool to provide success everywhere else in your training, and in life.