Glen Cunningham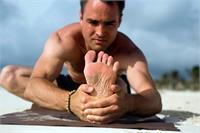 Glen Cunningham has been teaching Yoga in and around Boston for over 15 years with more than 10,000 classes under his belt. He is the only teacher to be recognized twice as "Boston's Best Yoga Instructor" by Boston Magazine (2003 & 2014). His teaching has always been influenced by his early years as a gymnast, his young adult years living in Japan (studying Japanese and Buddhist culture), as well as by his years spent working in "corporate America." Ultimately, it was the corporate lifestyle that not only triggered the deterioration of his physical, mental, emotional and spiritual health, but it also made him recognize how dysfunctional and out of balance many of the goals woven into American work life seemed to be. Consequently, Glen's classes (while physically and mentally challenging) are aimed at being approachable for students of many different ages, abilities and experience levels, and while they provide the physical workout and stress reduction that initially attracts most people to Yoga, the ultimate goal of his classes is to enable people to see beyond the anxiety and stagnation that often accompany a busy, fast-paced lifestyle, in order to come to a deeper understanding (through the clarity of a quiet mind and the openness of an expansive heart) of the true direction they want their life path to take from here, and to feel emboldened to act on that instinct.
Glen Cunningham instructs the following:
Vinyasa Yoga is a vigorous yoga class that moves through poses with the pace of your breath. The class is designed for all levels with modifications offered to take the class at your own level and ability on any given day. The sequence of each class will build towards a challenging peak pose(s) to stimulate both the beginner and advanced practitioner as well as the kid at heart. This class will be sweaty and fun and will challenge students of all levels.