Pamela Newman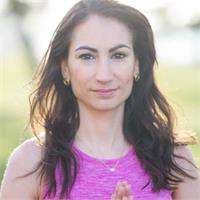 Pamela Newman discovered a passion for yoga and wellness in the midst of earning her bachelor of science degree and masters degree at Vanderbilt University. After being a student of yoga for more than a decade, she was inspired to teach upon discovering the calming and meditative aspects of Yin and restorative yoga. Pamela found that Yin helped her find balance in this busy, heavy, technology-based culture.

In her Yin and restorative classes, Pamela is able to guide her students to the softer side of yoga, offering peace and stillness as a way to balance their busy lives. Pamela encourages her students to grow their physical, emotional, and spiritual selves through the quiet strength they can access in these classes.

Pamela completed her 200-hour yoga teacher training in 2014 through Boston Yoga School, led by Ame Wren. Since then, she has continued to develop and enhance her offerings as a contemplative and therapeutic yoga teacher. This continuing education has included two advanced Power of Touch Mentorship trainings with Nicole Clark and Yin yoga training with Josh Summers. Pamela also completed a 100-hour Yoga for Emotional Health training, with Soulful Yoga Therapy founder Kate Graham. Pamela is currently enrolled in Josh Summers' 300-hour advanced Summers School of Yin Yoga.
Pamela Newman instructs the following:
Enjoy the quiet, meditative practice of Yin Yoga by soothing candle light! Yin uses long-held passive poses to enhance and renew the body's vital energy, prevent joint rigidity and immobility, and nourish the body at the cellular level. Yin aids with digestion, muscle repair, organ detoxification and emotional processing. The long held postures allow the connective tissue (ligaments, tendons, joints, and fascia) to strengthen, and with a consistent practice you will notice postural improvement, increased ease in movement and an overall balanced being. This is the perfect complimentary practice to any strength building or cardio exercise as well as an active Yang or vinyasa practice. It is also great for anyone recovering from injury or illness and pre or post -natal. Please note that this class is held at room temperature to increase the effectiveness of the practice - socks are welcome.