---
Boston 200-Hour Yoga Teacher Training at Coolidge Yoga with
The New School of Yogic Arts
"Yoga is the journey of the self, through the self, to the self." –Bhagavad Gita

WHETHER YOU WANT TO TEACH YOGA OR NOT, IF YOU LONG TO CONNECT MORE FULLY WITH THE DEEP TRUTHS OF YOGA THAT BRING PEACE - TO THE BODY, YOUR MIND, AND TO THE PLANET - NSYA CAN BE THE NEXT RIGHT STEP ON YOUR JOURNEY. This Yoga Alliance certified 200-hour teacher training program will arm you with the tools you need to teach with the best of 'em, or will simply guide you to dive deeper into your yoga practice allowing for a journey to your inner-most self. Trainings are led by a combination of your favorite CY teachers and guest faculty experts and staff.
---
JULY 2018 SUMMER INTENSIVE
---
Led by: Tatyana Souza
Featuring: Laura Ahrens, Andrew Tanner, Grace Jull, Emily Peterson, Kris Quinones and Joan Dwyer

Sun, Jul 1st - Fri, Jul 27th 2018
WEEK 1: 7-DAY INTENSIVE
Sun July 1st: 11:45 a.m. - 4:15 p.m.
Mon July 2 to Fri July 6th: 8:00 a.m. -5:30 p.m.
Sat July 7th: 11:00 a.m. - 8:00 p.m.
(July 4th OFF)

WEEK 2 - WEEK 4 (MON-FRI)
Mon July 9th - Fri July 27th: 8:00 a.m. - 5:30 p.m.
(weekends off)
---
---
2018 FALL 5-MONTH TRAINING
---
Led by: Laura Ahrens
Featuring: Tatyana Souza, Andrew Tanner, Grace Jull, Emily Peterson, Kris Quinones and Joan Dwyer

October 2018 - February 2019

Fri 6:30 p.m. - 9:30 p.m.
& every other weekend
Sat 11:00 a.m. - 8:00 p.m.
Sun 11:45 a.m. - 4:15 p.m.

Weekend Dates:
October: 19-21
November: 2-4, 16-18, 30-Dec 2
Thanksgiving friday off
December: 14-16, 28-30
January: 11-13, 25-27
February: 8-11, 22-24 (Berkshire retreat)
---
Self Investment:
---
Lead Trainers:
Laura Ahrens: Lead and co-founder of NSYA
Laura's teaching is a union of traditional yogic philosophy and a modern perspective on practice. In her work, physically challenging asana kindles the fire of transformation and focuses strong attention into meditation. Storytelling, metaphorical language and precisely directed options for alignment teach the tale of becoming more human.

She is most interested in teaching others to be discerning practitioners who synthesize information for themselves. In that spirit, she co-created The New School of Yogic Arts, a teacher training school for those who want to learn to teach the practice of yoga as a living system that breathes differently in each body.

Her current work is a melding of all the different truths of moving and living through yoga that she has had had the privilege of learning. Her teaching is an approach to practice and is not style focused. Her classes and other offerings prioritize depth of breath, core centricity of action, and commitment to the inner work necessary for personal evolution.

She holds a 200 hour certification in hatha vinyasa, 200 hour and advanced certifications in Forrest Yoga taught by Ana Forrest, and completed a year-long mentorship under the guidance of Dr. Heidi Sormaz. She holds a BFA from The University of the Arts, where she honed her use of story and song, which since ancient times have served as instruments of connection and community.
Her teachers have paved her path, and she is forever grateful to them and to the teachers of the teachers.
Tatyana Souza: Lead and Co-Founder of Coolidge Corner Yoga and Sadhana Yoga

A PhD and an E-RYT, Tatyana Souza received her 200hr certification in 2011 from Back Bay Yoga in Boston under Kate Greer, Nicole Clark and Lynn Begier. Inspired by the yoga training and by her two little kids, Tatyana left her career in the pharmaceutical industry to co-found Coolidge Yoga in 2013. A dreamer and believer in the "good", Tatyana wanted to lead by example for her little boys. She believes that yoga is the catalyst for personal and global change and hopes to make an impact in her community and the world by creating a warm, sacred space where yoga students can move, connect, and cultivate much needed stillness and breath in their daily life.
Tatyana's teaching is inspired by Maybelle Rowntree, Schuyler Grant and Annie Carpenter. She is currently pursuing her 500hr training at the Wanderlust studio in Hollywood. She gracefully weaves together creative sequencing with well informed alignment cues to facilitate a fluid yet safe experience focusing both on strength and movement. She uses compassionate, intuitive, as well as, alignment-focused touch to allow students to feel supported, safe and sacred in their asana practice and in their bodies.
Goldie Graham: Lead

An E-RYT, Goldie Graham received her 200hr certification in 2008 from Yoga Tree San Francisco under Janet Stone, Stephanie Snyder, Darren Main, and credits Les Leventhal as her first mentor. Having moved to San Diego in January 2015 from Boston where she taught at Back Bay Yoga Studio for 5 years, she now travels the globe teaching workshops, retreats, teacher trainings, and has been an instructor at various Wanderlust Festivals.
Goldie is known for her creative, intelligent sequencing, while keeping precision and alignment paramount within a carefully crafted sequence. Through your experience in her classes, you'll witness how Goldie highlights the importance of creating a soundtrack to accompany the rhythm of the physical flow. Goldie's classes are inspired by the style of Kula Yoga out of NYC, sprinkled with Iyengar Yoga and the discipline and innovation of David Regelin.
Goldie has been featured in Yoga Journal, Runner's World, Marie Claire, The Huffington Post and was among the list of the 100 Most Influential Yoga Teachers in America.


---
Andrew Tanner - Philosophy, Sacred Texts and Business of Yoga Expert and original co-founder of NSYA
An entrepreneurial yogi with a light hearted approach, Andrew is also the founder and director of Elements3 Yoga. He began his yogic teaching more than ten years ago, practicing a form of Taoist yoga and healing under Jae Hun Lee. During the course of this, he spent five years living a monk-like life with eight other disciples in the midst of the craziness of New York City. Andrew later went on to train with hatha yoga master Dharma Mittra and Andrei Ram for four years and completed the Dharma Yoga 200- and 500-hour teacher trainings.
Andrew's classes will stir your body and soul. Expect yourself to laugh at enlightenment and not take yourself too seriously. Andrew's background in religious history and psychology allows him to relate the ancient practice of yoga with the dramas in our everyday lives, leaving us inspired to pursue our highest self.
His strengths as a teacher include inspiration, humor, teaching beginners, inversions, and hands-on assists.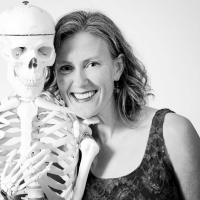 Grace Jull - Anatomy Specialist:
Grace Jull, MA, LMT, E-RYT 500, an advocate of embracing potential as a collaborative field of consciousness, teaches anatomy and physiology internationally. She integrates her understanding of activism, embryology, osteopathy, anatomy, aquatic massage, and yoga into a poetic, passionate, and contagious approach to life, writing, and teaching.Since 1986, Jull has been integrating her accessible and insightful understanding of activism, embryology, osteopathy, anatomy, aquatic massage, and yoga into a teaching that ignites a deep intuitive practice that blends art and science.

A cofounder of the transformational Shakti-Initiation yoga leadership training in Bali, Indonesia, Grace Jull is adjunct faculty in various mind-body medicine programs with partners such as Harvard Rehabilitation Medicine Residency, Cirque de Soleil's Inuit Intervention, Saybrook University's doctorate program, and Kripalu Center for Yoga and Health.

Kris Quinones, LMT, CYT-500, and Founder of Rasayana, LLC, is a licensed massage therapist, Kripalu and O2 Yoga teacher, Ayurvedic Health Counselor, Ayurvedic Yoga Specialist, and continuing education provider for the National Ayurvedic Medical Association.
As featured in Boston Voyager Magazine, one of her specialities is in traditional Ayurvedic bodywork treatments and her original workshops on Repetitive Strain Injuries and Ayurvedic living have been presented at Berklee College of Music and the Omega Institute for Holistic Health.
She's passionate about helping clients claim their birthright to feel good, while setting and maintaining high professional standards for future practitioners. She lives in Winchester, MA and in her free time you'll find her at the nearest beach or busting a move on the dance floor.
Bridget's long journey to know herself, has brought her to yoga and coaching. A Certified Life Coach and Intuitive Healer, the work she does is an amalgam of the two disciplines. Her approach to healing and transformation flows naturally from her belief that we can know ourselves and we can keep the promises we make to ourselves. She allows for big dreaming, and enjoys going deep. She facilitates a transformational process where her intuition supercharges deep exploration to build awareness, supports clearing and allows for shifts to occur naturally.
Her training as a coach brings things down to earth, with skills, tools and real-time support to create forward movement. In a session with Bridget, she will question you, challenge you and hold you accountable — and she will champion you, encourage you, and acknowledge your brilliance. In every session, she will reflect back to you the vision you create through the work you do, and she will not let you give up on yourself.
Emily Peterson - Meditation Guide and Yin Yoga Instructor

Emily is a certified 500-hour yoga instructor, Usui Reiki Master, and licensed TIMBo facilitator and trainer. Emily also holds a B.A. in Applied Psychology from University of Illinois-Chicago, where she began studying Buddhism and mindfulness, which are central to her life and to yoga. She has studied extensively with Lama Migmar Tseten, Buddhist Chaplain of Harvard University.
Influenced by a tradition of somatic-based work, Emily believes in the bi-directional relationship between psychology and physiology—the mind influences the body and the body influences the mind. In truth, there is no way to separate the two, and when we think of them as two different, distinct entities we create disharmony. Health is achieved when there is harmony between and respect for both the body and the mind. Emily practices and facilitates yoga with the belief that true well-being and wellness begin with understanding how our bodies have adapted and developed in response to our surroundings and relationships. In short, listening to the body and discerning its wisdom is where healing and peace lie!
Joan Dwyer

- Business of Yoga and Future Vision
Joan Dwyer founded All That Matters yoga + holistic health center in 1995. Before yoga was a household word, Joan established one of Rhode Island's first studios offering yoga, health services and workshops. With a rich 20+ year history, today she guides three thriving studios dedicated to providing community, education and an opportunity for people to explore the many facets of health and wellness. Joan also speaks nationally on the business of yoga, her expertise as a strategic consultant empowers other teachers, practitioners, small businesses and yoga studios to succeed.
---
Follow the link HERE for the full NSYA website.
Please feel free to e-mail info@coolidgeyoga.com with any questions!